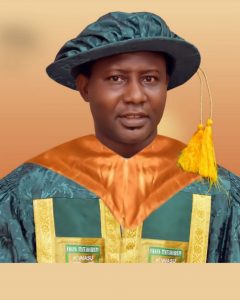 Prof. Muhammad Mustapha-Akanbi, SAN (member, BoT)
Member, Board of Trustees
Brief info
Prof. Muhammed Mustapha-Akabi, SAN, is a member of the Board of Trustees of the Elites Network for Sustainable Development (ENetSuD)
Professor Muhammed Mustapha Olaroungbe Aremu Akanbi is one of the Children of late Hon.
Justice Muhammed Mustapha Adebayo Ajao Akanbi (the Pioneer Chairman of the Independent
Corrupt Practices and other related Offences Commission, ICPC). He hails from Ile Magaji
Kemberi, Awodi, Gambari Quarters, Ilorin East, Kwara State of Nigeria. Prof. Akanbi is the
current Vice-Chancellor of the prestigious Kwara State University, Malete, the University for
Community Development.
Prof. Akanbi SAN graduated from the Obafemi Awolowo University, Ile Ife with a Bachelor's
degree in Law with second class division in 1993. He attended the Nigerian Law School, Victoria
Island Lagos, where he also bagged the second class upper division. He was called to bar in 1995.
During his service year in 1995 – 1996, Akanbi served the nation as a legal assistant in the legal
unit of the Central Bank of Nigeria in Lagos. Between March 1996 and 1998, he practiced as a
junior in the law firms of Wole Bamgbala & Co, Lagos, Olawoyin and Olawoyin, Lagos and
Ayodele, 'Gafar & Co, Ilorin respectively.
Prof Akanbi SAN bagged a master's degree in Law (LLM) in 1998 from University of Lagos,
Akoka. Between 2004 and 2006. He then attended the prestigious Kings College, University of
London, United Kingdom for his Doctorate Degree (Ph.D.) in Law. During his Doctorate
programme, Prof Akanbi also earned a Graduate Certificate (Non-award Route) in Academic
Practice (GCAP), from the same university in 2005.
In August 1998, Akanbi joined the service of University of Ilorin as a Lecturer 2 in the Department
of Business Law, faculty of Law of the University. He rose through the ranks and was appointed
a Professor of Law in the Department of Business Law in October 2012. In 2014, he was also
appointed an adjunct Professor of Law at the Kings University College, Accra, Ghana for a period
of one year. In over two decades' career period in the University of Ilorin, Akanbi has held several
administrative positions, chief of which are: Sub-dean of the faculty of law, Head of Business Law
Department, Faculty of Law, Postgraduate Representative, Senate Member, Dean of the Faculty
of Law, Deputy Director, Centre for Research Development and In-House Training (CREDIT) and
Director, School of Preliminary Studies, Fufu, University of Ilorin.
Professor M.M. Akanbi has over 60 national and International publications in reputable peerreview
journals with a bias in Alternative Dispute Resolution (ADR) and Arbitration Law. Other
research areas include conflict resolution laws, corporate management law and practice. In 2017,
Prof Akanbi completed a BADEA-UNITAR Online Course on Private Sector Development (2017)
with specialisation on Ease of Doing Business in Africa and was awarded a Certificate of
Completion by Arab Bank for Economic Development in Africa and United Nations Institute for
Training and Research (BADEA-UNITAR).
Professor Akanbi has a number of cutting-edge and trans-disciplinary research projects and
consultancy to his credit, some of which include:
Lead researcher (2016- 2017), 'Developing Interventions: Understanding Prosecutors' Routine
and Pretrial Practices'. (A research project involving 6 countries: USA, Mexico, South Africa,
Ukraine, Poland and Nigeria) commissioned by the Open Society Justice Initiatives, New York;
Member – Technical Working Committee (TWG) (2013), on 'An Independent Review of
Evidence of Gross violation of the Rights to Participation in Government and Fair Trial through
the Election Petition Process in Nigeria 2003 – 2011' commissioned by National Human Right
Commission, Abuja, OSIWA and the Ford Foundation.Consultant/ Member, Technical Working
Committee (TWG) (2012), on a research on the Legal framework on Citizenship and Religion as
it affects National Integration in Nigeria' commissioned by International Development Law
Organization (IDLO) Rome, Italy.
Professor Akanbi has attended and presented papers at several national and international
conferences, workshops, retreats and seminars. He has over the years supervised to completion
many postgraduate students in law and peace studies at master and doctorate levels. He also serves
as professorial assessor, postgraduate and external examiner to more than 20 reputable universities
within and outside Nigeria. He also serves on the editorial board of several reputable journals and
law reports of public and private institutions.
Professor Akanbi has also been active in his professional field. One time Chairman of the Nigerian
Bar Association, Ilorin Branch between 2007 and 2009; Past member of the Council of Legal
Education in Nigeria 2007 – 2011; Former member, NBA Committee on Electoral
reforms; Former member, Executive Committee of the Academic Forum of the NBA; Former
Member, Constitutional Review and Electoral Reform Process, NBA; Chairman, Technical
Committee on the Establishment of the Kwara State Multidoor Courthouse; One time external
Examiner, Nigerian Law School; Past member, Board of Institute for Continuing Legal
Education; Chairman, 2014 Biennial Law Week Committee – NBA Ilorin; Member, NBA Ilorin
Caretaker Committee; Chairman, Disciplinary Committee, NBA Ilorin (2018- 2020); Member,
Law Reform Committee, Institute of Chartered Secretaries and Administration (ICSAN); Head of
Legal Research Division (sabbatical leave), National Institute for Legislative and Democratic
Studies, Abuja, 2019 – 2020; Principal partner, Forum Conveniens Consult, a legal consultancy
firm of Solicitors and arbitrators in Ilorin- Kwara State 2012 to date.
In recognition of his sterling leadership qualities, the American government nominated Prof
Akanbi to be part of the International Visitor's Leadership Programme (IVLP) in the United State
of America in 2016. On 24th September 2018 in recognition of his contribution to the development
of law and legal profession in Nigeria, Prof Akanbi, was conferred with the award of Senior
Advocate of Nigeria (SAN), which is the highest distinction in the legal profession in
Nigeria. Professor Akanbi belongs to many professional bodies including the Nigerian Bar
Association, Nigerian Association of Law Teachers' Society, Chartered Institute of Arbitrators,
United Kingdom and Nigeria and Institute for Chartered Secretaries and Administrators, Nigeria.
In 2015, Professor M.M. Akanbi SAN founded the MMGIVIT Charity Initiative. The Initiative
takes care of the less privilege through redistribution of wealth programmes, organising
educational activities including poetry competitions and career counselling for secondary schools
in Kwara State. In addition, the Initiative organizes health tests and counselling for less privileged
members of the society. Professor M.M. Akanbi SAN is married to Hajia Shakirat Folake Akanbi
(also a lawyer by profession) and they are blessed with kids. (profile adapted from
http://highprofile.com.ng/2020/04/01/meet-the-new-kwasu-vc-prof-akanbi-san/)