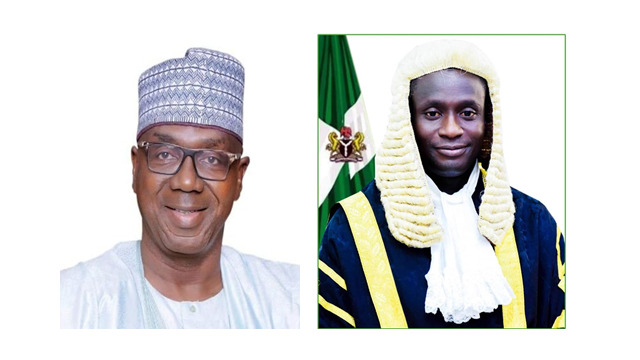 WE CAN'T KILL CORRUPTION WITHOUT ACCESS TO INFORMATION – ENetSuD TELLS ABDULRAHMAN, DANLADI
Elites Network for Sustainable Development (ENetSuD), a Kwara-based Civil Society Organization known for its #FollowKwaraMoney activities, has reacted to the statements made by Alhaji Abdulrahman Abdulrazaq (the Executive Governor of Kwara State) and Rt. Hon. Salihu Yakubu Danladi (the Speaker of Kwara State House of Assembly, KWHA) on 9th December, 2019 at the International Anti-Corruption Day Rally organized by the Ilorin Zonal Office of the Economic and Financial Crimes Commission (EFCC).
In the Governor's statement, he rightly stated that "if we don't kill corruption, it will kill all of us" and added that "corruption is detrimental to socio-economic development of any society as it reduces government's capacity to deliver on campaign promises". He also rightly noted that "corruption is killing us in our schools and hospitals, hinders infrastructural development". He then emphasized the importance of working hand in hand with the anti-corruption agencies and be part of the processes to develop our society, and also urged Kwarans to continue to support the anti-corruption drive of the government as part of the strategy to achieve the United Nations Sustainable Development Goals. The Speaker of KWHA also said that "it is important for all of us to partner with the EFCC to kill corruption and save our state and Nigeria in general".
Reacting to their remarks, ENetSuD (in a statement signed by its Coordinator, Dr. Alagbonsi Abdullateef) noted that despite the campaign and inauguration promises to uphold transparency and accountability, Abdulrahman-led administration is not yet ready for participatory and citizen-oriented anti-corruption fight in Kwara State by not making public access to information about government's spending a priority. ENetSuD added that anti-corruption fight without citizens' involvement and ownership is a sham and unrealistic, and there is no how citizens will be involved and own it without free and adequate access to genuine and official information on how public funds are spent by the government at all levels.
ENetSuD recalled how Danladi-led 9th KWHA abandoned the minor amendment of the Kwara State Freedom of Information (FOI) Bill 2019 since 23rd July, 2019 that the Speaker read the amendment request from the Governor at the plenary. In the Governor's request, he said "After a thorough consideration of the Bill as passed by the 8th Assembly, I am convinced that the Bill, if assented to, will no doubt strengthen transparency, accountability and promote a culture of maintenance of proper and up-to-date records of official acts and government transactions. It will indeed serve as an instrument of good governance. I am however of the firm belief that some clauses of the Bill need to be amended before it becomes Law. The proposed amendments are to make the implementation of the Law reasonably practicable for the bureaucracy and deter violation or infractions if it becomes Law. Premised on the aforesaid, I propose amendments to sections 4, 5(1), 6 and 10 of the Bill. Seven (7) days prescribed in sections 4, 5(1) and 6 of the Bill should each be replaced with fourteen (14) days while punishment of a term of two years' imprisonment or a fine of one hundred thousand naira (₦100,000) only stipulated in section 10 of the Bill be replaced with punishment of a prison term of Two years and five hundred thousand naira (₦500,000) fine".
The Speaker (whose Assembly has refused to effect minor amendment of FOI Bill after 140 days of receiving it) and the Governor (who has not fulfilled his moral obligation to persuade the Assembly to work on the amendment he requested for on a bill he said to strongly be in support of) are both calling on Kwarans to kill corruption, but have not provided the legal tool and platform for Kwarans to kill it. Access to information on public fund spending (which the current KWSG has not given to Kwarans) is the beginning of sincere and realistic corruption-killing exercise. Aside the miragic domestication of FOI Act in Kwara state, Abdulrahman administration has also proven its non-readiness for transparency and accountability by the Governor's refusal to respond to ENetSuD's request for financial and technical details of 9 selected KWSG-funded projects after 36 days of receiving and acknowledging it.
The FOI Bill, if passed into law by KWHA and signed by the Governor, will make public records and information more freely available, provide for public access to public records and information, protect public records and information to the extent consistent with the public interest and the protection of personal privacy, protect serving public officers from adverse consequences of disclosing certain kinds of official information without authorization and establish procedures for the achievement of those purposes and for related matters.
END
---