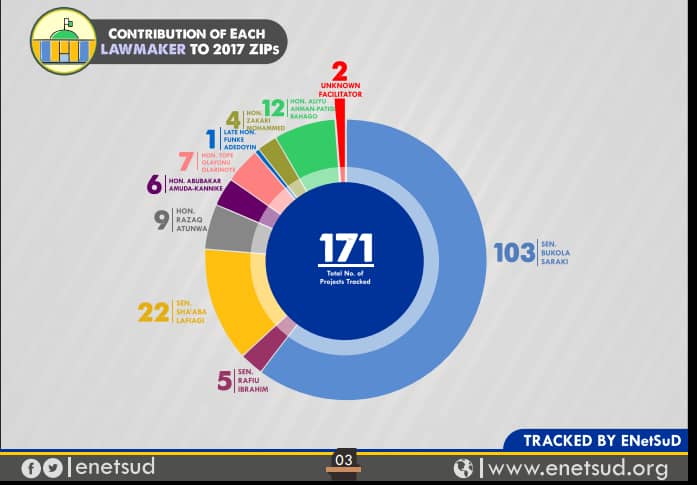 SARAKI FACILITATED 60% OF 2017 CONSTITUENCY PROJECTS, SOME WERE POORLY EXECUTED BY MDAs —– ENetSuD
Elites Network for Sustainable Development (ENetSuD), a Kwara-based Civil Society Organization, has disclosed that former Senate President Bukola Saraki had the highest contribution to the 2017 Zonal Intervention (Constituency) Projects it tracked in Kwara State.
During the 2017 Annual Report Presentation at Kwara Hotel on 6th July 2019 by the Coordinator of ENetSuD, Dr. Alagbonsi Abdullateef, he disclosed that ENetSuD tracked One Hundred and Seventy One (171) Constituency Projects as part of 2017 Constituency Projects and found that One Hundred and Three (103) of these projects (translating to 60%) were facilitated by Sen. Bukola Saraki, the former Senate President that represented Kwara Central Senatorial District.
ENetSuD listed some of these projects as blocks of classrooms, instructional materials, drainage and erosion control projects, streetlights, roads and boreholes. However, ENetSuD decried the poor execution of most of these billion naira projects by various MDAs. Explaining further, ENetSuD disclosed that it had dragged some of the MDAs that poorly executed Constituency projects in Kwara State to EFCC and ICPC for further investigation and prosecution. An example of the MDAs that were petitioned by ENetSuD is the Federal Ministry of Environment that executed Erosion Control Drainage at Abata Sunkere Community and Barakat Community School, both in Ilorin West LGA under Kwara Central Senatorial District.
While expressing disappointment that the Senator did not do well in proper monitoring of the projects for quality execution despite his commendable efforts in facilitating them, ENetSuD called on the 9th National Assembly members from Kwara State to ensure that government-funded projects are well-monitored to ascertain quality projects execution by MDAs that receive funds for them
END
---