PRESS STATEMENT | ENetSud Berates Gov. Ahmed Of Kwara State On Flooding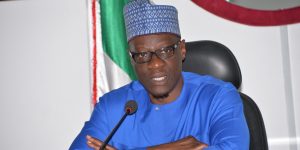 Civil society group, Elites Network for Sustainable Development (ENetSuD) has expressed its sympathy for the victims of the recent flooding in Okekere, Oloje, Ode Adana, Okelele, Dada area, Aduralere, Alagbado, Amilegbe, Akerebiata, Kuntu-Oja road, Harmony estate, Mubo street, and many other communities in Kwara state where thousands of people were displaced and properties worth millions of naira destroyed.

The executive director of the civil society group, ENetSuD, Dr Abdulateef Alagbonsi, in a press statement released on Monday (25.06.2018) attributed the recent flooding in  Kwara to negligence on the part of the  Kwara state Government, and mismanagement of the Ecological Funds the state gets from the Federal Government.
Alagbonsi, in  the statement said the negligence on the part of Kwara state government is unconnected to the non-implementation of the Kwara state master plan for environmental management, a view that had been corroborated by the press statement of a former Kwara state Commissioner on Environment and Tourism, Dr. Bola Olaosebikan OON.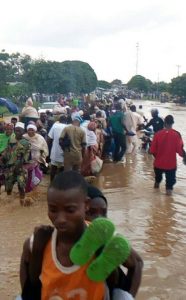 Dr. Bola Olaosebikan's claim that  Kwara state had a blue print and action plan for the capital and urban cities, which has been severely neglected, is a strong indication that the state is being governed by leaders who do not value the lives of the tax-payers and the citizenry.
Executive director of  ENetSuD, Dr Abdulateef Alagbonsi,further said that the state government had prioritized the income generating strategy of the state by enforcing the robust tax payment system, without a proportornate implementation of people-oriented policies and projects that will ease the lives of Kwarans. According to Alagbonsi, Many internal roads in Kwara state have roads that are not "motor-worthy", "bike-worthy" or even "leg-worthy".
ENetSud further lamented that the enforcement of drainage construction on building owners across the state has never been the concern of Government. Rather, the payment of tax by poor citizens into the government purse is the priority of the government.
 
"We are also aware that the Federal Government has been releasing Ecological Funds to the various constituencies of Kwara state, with the sole aim of improving water drainage and channels and forestalling the occurrences of this preventable flooding."
"Though some commendable works were done on selected water channels in Kwara state, it is however obvious that those works were unprofessionally done, and below standards, which had caused more harms than before. We are also aware of the fact that some of the projects were neither commenced nor completed, despite the allocated and released funds by the Federal Government."
"We call on the Kwara state government to promptly take steps towards the implementation of the Kwara state master plan for environmental management. As the government has taken tax collection as a serious government business, Kwara state environmental issue should also be taken with more seriousness due to its important and direct impact on all Kwarans."
"We also call on the relevant agencies of Federal Government to thoroughly investigate the utilisation of all the Ecological funds released so far to all the constituencies of Kwara state, as this will greatly benefit the masses."